Jackfruit curry
2015.05.21 Thursday
The site of the new workshop is originally an orchard.
Most of the trees including natural ones have been preserved to keep the site green.
We have counted 71 mango trees and 21 jackfruit trees there.
Jackfruits are used as vegetables when they are young an unripe.
They are sold in vegetable shops and are quite expensive.
We have in abundance as the photo below;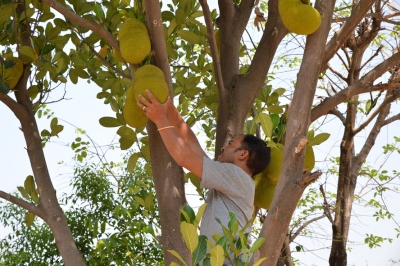 We could live on them when our studio is not in a good shape....
This man climbing the tree is Durgi, an experienced cook who is now working for the construction site kitchen.
The jackfruit curry is prepared as below after cutting and flying the fruit together with the big seeds inside;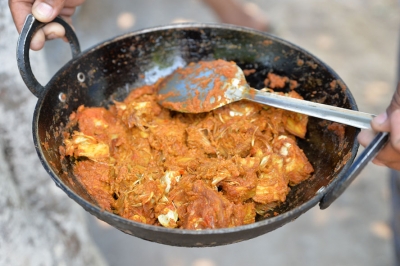 The fruit gives an unique texture like meats, which is appreciated especially by the vegetarians who miss their old habits of eating meats.
by Parva Tanaka