Arrival of Gudri
2016.01.31 Sunday
Towards the end of January, the temprature has gone up to be a pleasant spring day down here in North India.

A packet has arrived from Jharkhand, an eastern state in India.
Pieces of Gudri, the quilted works were there inside.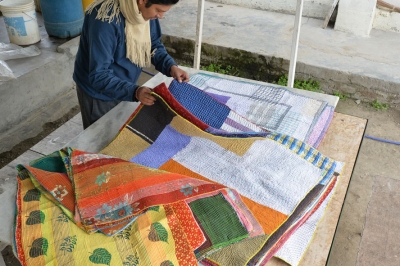 These Gudri works were quilted by village women headed by Khadija, the wife of our top weaver Shajad.
It was last October when we visited their village 1500km away from our workshop, we saw their Gudri works.
Being in some remotest areas in the country, women hardly leave their houses. They indulge in quilting whenever they have time. Their creativity is concenrated in this work, so to speak.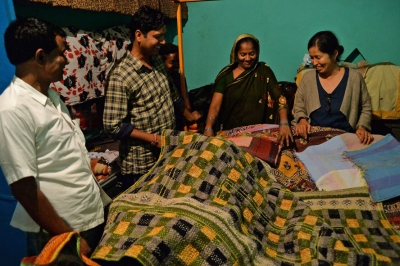 Above is the photo when we visited their house.
Chiaki (extrem right) was quite impressed by the work of Khadija standing next to her. Extrem left is her husband, Shajad.
Chiaki asked Khadija to do some work for our studio.
And after three month, their first works have arrived.
Chiaki, who is now in France, feels the colors are a bit too striking when seeing them in photos.
Still it is a good start at least.
by Parva Tanaka